As a leading gelatin manufacturer and supplier, Funingpu has been producing innovative and high-quality gelatin in food industry for many years. Our commitment to excellence and customer satisfaction has earned us a reputation as a trusted partner and solution provider for many food companies around the world. In this article,we will explore how gelatin in food industry can enhance the quality, stability, and creativity of your food products, and why choosing Funingpu as your gelatin supplier can help you stay ahead of the competition.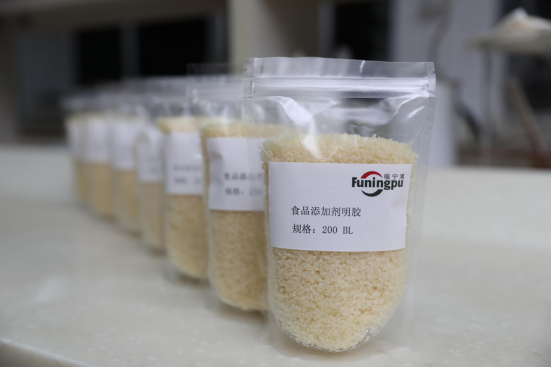 Gelatin's Unique Properties and Applications in Food Industry
Gelatin is a natural protein derived from collagen, a structural component of animal connective tissues such as skin, bones, and cartilage. Its unique properties, including water solubility, gelling ability, foaming capacity, film-forming ability, and emulsifying capacity, make it an ideal ingredient for a wide range of food applications. Gelatin is widely used in desserts, confectionery, dairy products, meat products, beverages, and many other food categories. It can improve the texture, mouthfeel, stability, shelf life, and nutritional value of food products, while also enabling creative and innovative product development.
Funingpu's Gelatin Products and Expertise in Food Industry
At Funingpu, we offer a comprehensive range of gelatin products that cater to different food applications and requirements. Our gelatin products are available in various grades, bloom strengths, viscosities, and particle sizes, which can be customized to meet your specific needs. We use only high-quality raw materials and advanced processing technologies to ensure the consistent quality and performance of our gelatin products. Moreover, our team of experts has extensive knowledge and experience in the food industry, and can provide technical support, formulation advice, and product development services to help you optimize your food products and achieve your business goals.
Funingpu's Commitment to Sustainability and Customer Satisfaction
At Funingpu, we are committed to sustainability and environmental responsibility. We use renewable energy sources, reduce waste and emissions, and comply with strict safety and quality standards to minimize our impact on the environment and ensure the health and safety of our employees and customers. Moreover, we value customer satisfaction and strive to exceed your expectations in terms of product quality, reliability, and service. We offer flexible ordering options, competitive pricing, on-time delivery, and responsive customer support to help you succeed in the fast-paced and competitive food industry.
Conclusion
In conclusion, Funingpu gelatin in food industry is a trusted and reliable partner that can help you enhance the quality, stability, and creativity of your food products. With our unique properties and applications, comprehensive range of gelatin products, expertise in the food industry, commitment to sustainability, and customer satisfaction, we can provide you with the solutions and support you need to stay ahead of the competition and grow your business. Contact us today to learn more about our gelatin products and services, and how we can help you achieve your food industry goals.